The Portfolio - Beautiful Norway - a photo journey
The limited edition portfolio consists of the following signed photographs in size 24x36cm printed on A3+ (33x48cm, 13X19") paper and shipped together with an archival portfolio box.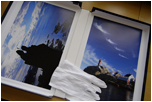 A limited edition portfolio is a series of prints in which each print is numbered. Limited editions usually go from just a few prints up to several thousands prints. My limited edition portfolio consist of just 25 copies maximum. Each limited edition print is both hand-signed and hand numbered on the print. The numbering I use is 1/25, 2/25, 3/25,.. until I reach 25 copies. When the complete edition has been issued the original images are retired and will never again be reproduced as a photographic print for sale.
The portfolio consists of following photos printed on A3+ paper (33x48cm, 13x19") in an archival portfolio box.
The photos are printed on 8 ink Epson 3800 professional printer on archival Innova FibaPrint White Semi-Matte 300 gsm paper, which is one of the highest-quality fine-art photographic papers today. In connection with Epson UltraChrome K3 inks it exhibits superior sharpness and color, and is expected to last over 100 years on display before noticeable fading occurs. Cotton gloves were used while handling the prints not to leave any fingerprints or scratches.
Portfolios will be printed and assembled as they are ordered, then shipped by overnight courier to anywhere in the world. This portfolio is priced at EUR 349,-. This price includes shipping by next day courier.
Please click Add To Cart to purchase the limited edition portfolio. I am using secure PayPal system, payments by credit card are accepted.